The technology of smoking has improved greatly over the last couple of decades. First it was vaping, and the ability to no longer burn the weed. Now it's the new laser bong, and a technology that takes the butane out of smoking.
The laser bong is the newest in weed-smoking technology, and it's a pretty cool looking piece of equipment. If you're a person who needs the next thing now, you definitely need this bong! We report on tons of stories in the cannabis and psychedelic industries, which you can play along with by subscribing to the THC Weekly Newsletter. This also gets you prime access to promotions on all kinds of items like vapes, edibles, and paraphernalia, along with premium deals on cannabinoid compounds like HHC-O, Delta 8, Delta 9 THC, Delta-10 THC, THCO, THCV, THCP, and HHC. As always, we do remind customers not to purchase any product they are uncomfortable with using.
---
What's a regular bong?
A bong, or waterpipe, is a smoking device that uses water to filter the smoke. These devices come in different sizes, and shapes, and though they sometimes look very different, the functional design in the same.
A bong is made of a water chamber, which is connected to a mouthpiece in one place, and a bowl in another, and sometimes a carb hole as well, although this is not necessary if the bowl is removable and able to work as a carb. The point of this function is to let in air to clear the accumulated smoke in the water chamber. The chamber needs to be air and watertight when the user puts their mouth to the mouthpiece. The weed is put in the bowl and lit on fire.
When the weed is lit, the user inhales through the mouthpiece, pulling in air through the bowl, through the water chamber, and into the user's mouth. If there's a carb hole, this must be covered during inhale, or it won't work. Once the user has pulled as much air as they wish, they can let go of the carb, or remove the bowl, in order to clear out the chamber of built-up smoke.
Bongs are used for smoking, but the same structure is also used to vaporize, via dabbing. Dabs are used as a way to vaporize concentrates, and use the same method of heating the concentrate, and then sucking the vapor through the water. The water works as a filter, trapping the heavier particles in the smoke/vapor, which makes for a smoother hit. The water also cools the smoke down, making it less harsh on the throat. Some bong use another piece called a percolator, which is a twisty glass structure, also meant to cool the air down further. It's common as well to put ice cubes in the neck of a bong, or directly in the water chamber, for cooling purposes.
Because of the water filtration, bongs might be slightly less dangerous than waterless pipes or joints, but there are things to consider. The weed is still being lit on fire and breathed in, which like it or not, is smoke inhalation, the basis for smoking issues. Plus, the weed is lit with a lighter, which also means the user is breathing in butane fumes as well. This matters in that sometimes a flame is held for many seconds when smoking a bong, in order to burn the herbs adequately.
What is a laser bong?
Let's be honest, just the term 'laser bong' sounds all futuristic and cool, and the best part is… it's real. Smoking technology has certainly reached a pinnacle at this point in history, as its now possible to light your weed with lasers. How effective is this new method? And what's the difference in terms of what you inhale?
The company Hitoki is the first to make this bong a reality, called the Hitoki Trident. The Trident is a cylindrical bong of mostly black airplane grade aluminum, with an air hose about 1/4-1/3 of the way up from the bottom. Above the air hose is a laser chamber that shines blue when in use, and below it is the water chamber that the smoke gets pulled through. The laser it emits is a 445 nm class 4 blue laser, hence the blue of the chamber. The water hose is either an actual hose – like what's used for a hookah, but a bit thicker, or a more stable plastic hose-like mouthpiece, more akin to a standard bong.
The benefit of the laser is that it can heat to a very precise temperature, and doesn't have to go as high as a lighter. It's used to burn either dry herb or concentrates, and is very efficient, allowing for approximately 280 uses off of each charge of its battery. Something that can be done easily with its included USB charger. In all other ways beside the laser as a heat source, the Trident functions like any other bong.
In order to use it, the bong comes apart for loading the weed. It has two distinct pieces that lock back together with an FDA compliant interlock system. It's about as simple as loading it, locking it, and lighting it, which is done with the push of a button. The laser has three power settings, with the lowest temperature for buds, the mid for dense buds, and the highest for concentrates. It also comes equipped with a carb button for cleaning out the smoke chamber.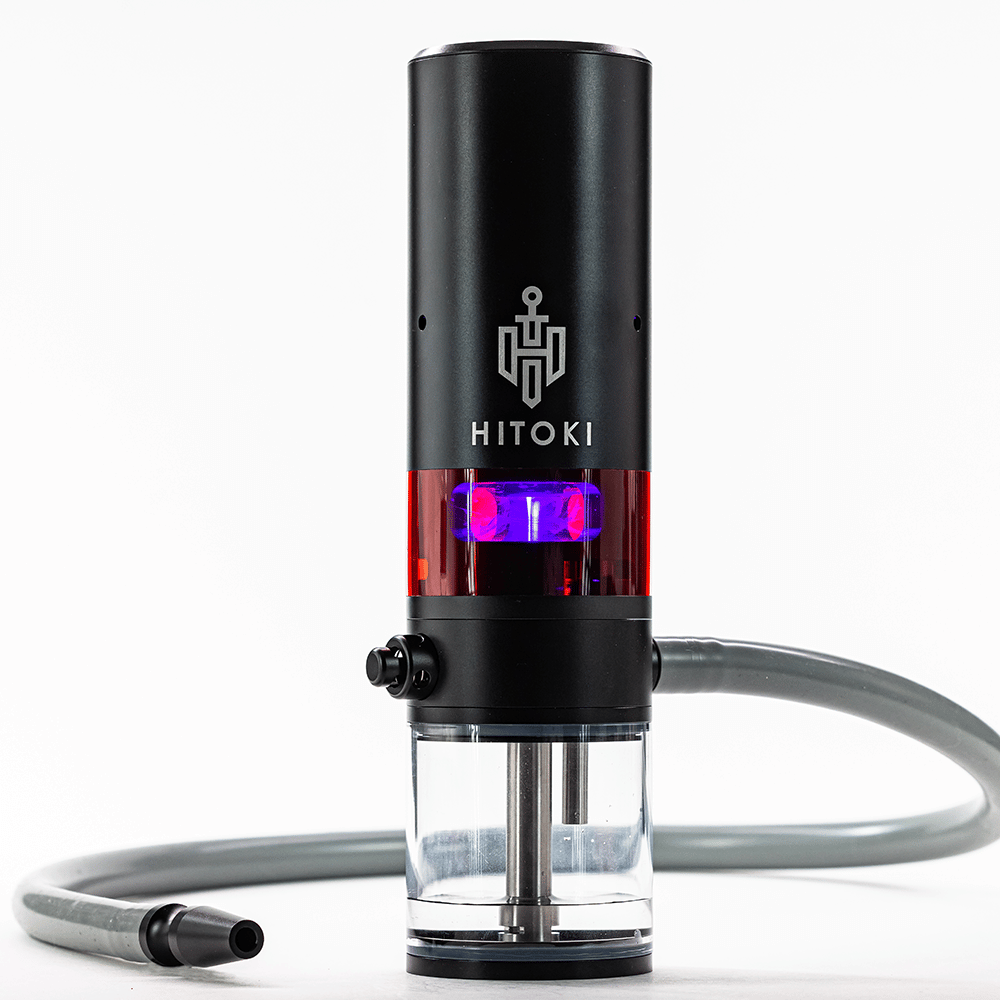 If you're thinking this is a lot for a bong, you're right! These bongs are so high scale, they even come in gold or rose gold, for those who want the extra fancy version. Even the regular version will set you back a bit, starting $499,99. Hitoki marks the first company to employ this laser technology for bongs, but it likely opened a can of worms that tons of companies will get in on. Hitoki boasts the cleanest smoking experience using the Trident, and that the smoke is the most flavorful possible.
Benefits of a laser bong
It's not exactly a cheap piece of equipment, and therefore won't be available to everyone. It can be expected that upcoming competitor models will retain the same high price, although if its out long enough, there's surely a budget model somewhere in the future. For now, however, if you want this new smoking gadget, you'll have to pay out. So, if the cost is so high, what are the benefits of using a laser bong?
For one thing, there's no lighter, and no other material being burned in order to light the herb. Back a few years ago I had a boyfriend who bought a hemp wick (think hemp twine), which was also meant to clean out the lighting aspect. Instead of lighting the bong with a lighter, the lighter lit the wick, which was then used to light the weed. Honestly, it worked okay, but I found it difficult to use. The laser bong does remove the inhalation of any extra materials, although there isn't much information on whether it itself creates byproducts which might not be desirable to inhale.
The laser is supposedly more efficient than using a lighter, burning the herb evenly, and requiring less weed to do the same job. Going through weed quickly is often an issue, particularly when a device does not heat evenly, or simply requires a large amount for a not comparable hit. Anything that can elongate the amount of time weed lasts, certainly provides a positive benefit. How much it does in this department, has not been made clear.
It's super cool. I don't know how much this counts as a benefit, but in our world of constantly one-upping each other, and showing off our newest expenditures to those who want what we have, this bong certainly fits in line. Sure, it's the mansion that's probably too big, or the eighth car we could do without, but who doesn't want a huge mansion, or to be able to afford eight cars? If the use of a laser does indeed make it a safer experience, then that is a massive benefit. Either way, in terms of 'cool' and 'status', this smoking device is the Rolls Royce of bongs.
It's advertised that this laser bong uses lower temperatures to heat, and that this affects the overall feel. While this would have no effect on the negatives of combustion, it might make a difference in how a user feels the smoke in their body. Lower temperatures can mean a more comfortable time, and less coughing, as the heat can bother the throat and lungs. This is why bongs are often kitted out with extra measures to cool down the smoke.
There is one massive thing to remember. If you're looking at a laser bong as a healthier smoking option, this isn't quite true. The biggest issue with smoking – and it doesn't matter what's smoked – is that something is being lit on fire and inhaled, and this is not changed through this particular design. It eliminates the added on butane fumes, that's for sure, and therefore might net a smoke that tastes better and is slightly cleaner, but it won't take out the overall dangers of smoking, not even by a little.
Quite honestly, in terms of actual benefits, there are some, but they're not extensive. It does seem to promote a sleek, upscale, cleaner smoking experience, and the removal of butane is certainly helpful, along with the ability to make weed go further. Luckily, cool and futuristic are also benefits in our modern world, so if you're looking for the newest breakthrough in smoking technology, and the most hip way to do it, this laser bong is definitely for you.
Conclusion
It should be interesting to watch other comparable models by other companies come out. With enough competition the design will surely be improved on, and with enough time, we can learn the true benefits (and detractions) of using laser bongs. For now, Hitoki certainly hit the nail on the head of cool, and I fully admit, I want to try this bong! Review upcoming.
Hey guys, thanks for stopping by! Welcome to CBDtesters.co / Cannadelics.com, a top web spot, offering well-rounded coverage of the cannabis and psychedelics landscape. Read-thru the site whenever possible to stay informed on the motions of these quickly-morphing industries, and check out The THC Weekly Newsletter, so you're on top of everything big going on.